GNSS & IMU PROCESSING SERVICE
High Accuracy.  Kinematic and Static.
Make raw GNSS data accurate from your drone, manned aircraft, terrestrial or marine survey.
Typical accuracy of 3 cm XYZ with no inputs other than your original rover data.
No Software License
No Software Subscription
No Data Subscription
No Base Station Data

No Field Work
Supporting DJI RTK Drones
Just fly your drone and upload the data.
Supports DJI Phantom 4 RTK, M210 v2 RTK, M300 and Mavic Pro Enterprise. 
No RTK limitations with range and loss of data. No base station requirements at all.
This hybrid PPP PPK processing solution will achieve 3cm accuracy XYZ no matter how far you are from a base station.
Process Any GNSS Data
Static or Kinematic
Supporting Novatel, Trimble, Leica, Topcon, Septentrio, UBlox, Javad and others. Or upload your Rinex data.
No base station required.
Need Hardware?
If you've got a DJI RTK drone, you're fine, you don't need any extra hardware to use MakeItAccurate. But if you do need GNSS hardware, Klau Geomatics supplies high quality NovAtel-based systems that integrate with Pixhawk and other controllers.
Compatible with most cameras on drones and manned aircraft.
Very high quality, military grade GNSS, tuned specifically for PPP post processing.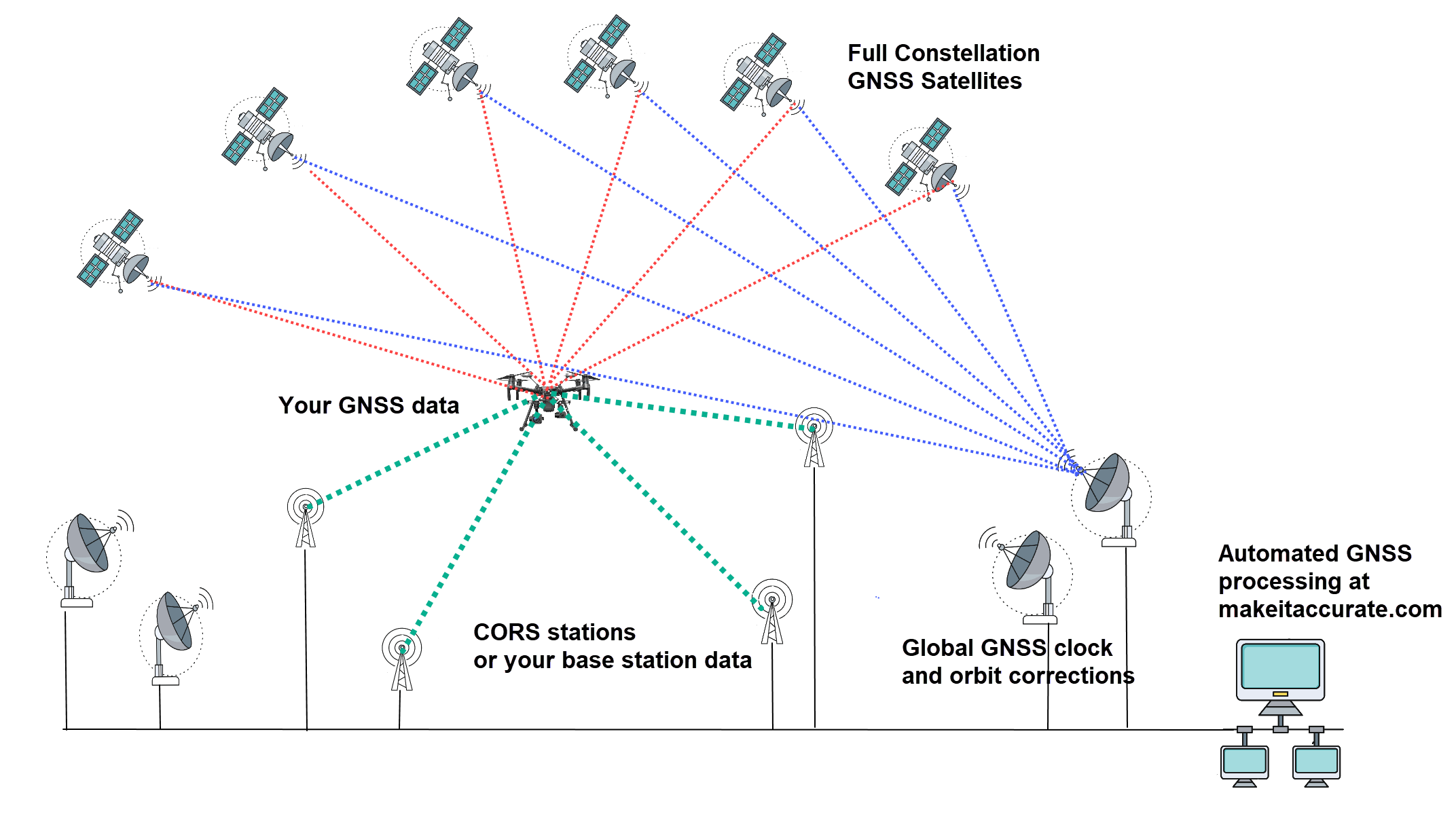 Drag and Drop the raw GNSS data from your drone or survey receiver in any supported GNSS or Rinex format.
Our processing engine will assess your data and quote estimated achievable accuracy, estimated processing time and cost based on data content and location.
We process your data with precise global clock and orbit corrections and, where available, terrestrial based GNSS data to produce very high absolute accuracy (2-3cm XYZ).
Processing happens quickly once the corrections data is available (a few minutes to one hour). We'll notify you to access your processed job online.
API
Direct integration available for your software, hardware or services.
GNSS and IMU manufacturers can  add value to their products with an easy affordable accuracy solution.


Lidar and other product integrators can offer a simple high accuracy solution for end users.


Software developers and solution providers can add a seamless automated MakeItAccurate option to add accuracy to their solutions

Our full API is available to be integrated seamlessly with your hardware or software
"Make it Accurate is groundbreaking technology, making high-end GNSS processing accessible and affordable."
– Rob Klau, Director, Klau Geomatics
Ready to give it a try??
The first job is free, each new account has enough credit for one job. Get in touch if you'd like to run a few more on us.
Don't trust us on accuracy, prove it for yourself. Process your data with no base station and compare results to your usual workflow.